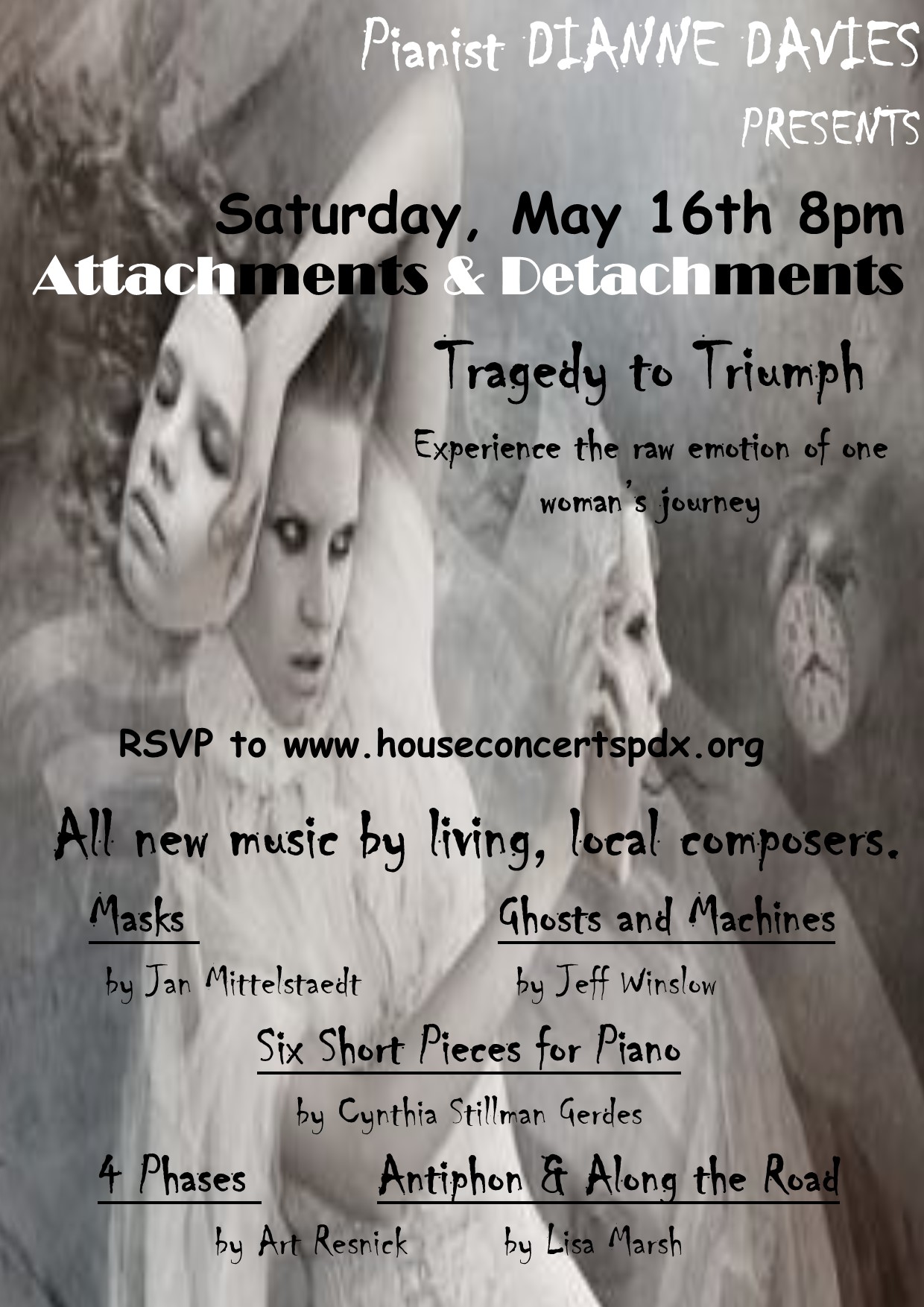 This program is called Attachments and Detachments: tragedy to triumph. A journey of the human emotional trek.
Dianne Davies will be performing Jan Mittelstaedt's piece Masks in 4 movements:
I Laughter
II Tears
III Anger
IV Joy

The first three movements depict "the masks of emotions we wear to cope with and cover up the truth below. The piece concludes with Joy when we make peace with who we really are, take off all the masks and share our true self with the world we experience true JOY.
Next, Jeff Winslow's piece Ghosts and Machines is a masterpiece in 4 movements of Jeff's own grieving process at the loss of his beloved brother. Finally, music that gives Davies the vehicle for emotional expression of her own personal loss and recovery. Each movement has its own character "ghost" that musically depicts the emotions, questions and pain often felt or denied in the process of letting go of a loved one.
Lastl, Davies will perform Lisa Marsh's piece Along the Road. This jazzy piece is based on the Buddist Proverb "If we are facing in the right direction, all we have to do is keep on walking."
More about Masks:
I Laughter in this case is a cover for the let downs and embarrassments in life. Not the simple, but the long lasting shame that accompanies a situation or relationship. II Tears is the mask of manipulation to get what we want without asking honestly. III Anger is the emotion that burns and internalizes when we can't face our own grief.
More about Ghosts & Machines:
I Hijinks represents the "tricks" our memories or "ghosts" can play on us. Perhaps we remember inaccurately or choose to remember things the way we want to. In a sense, we make our own reality. II Dirge the pain of death, loss and grief is penetrating and inescapable. III Scherzo is a funny movement and enacts a Poltergeist ghost. This ghost reminds us of the dark humor that gets us through times of intense fear and loss. IV 4th movement replicates the time of dies irae "day of wrath". This brings up many of the questions we all struggle with in the grieving process. What happens when we let go of a loved one that has passed on. It means the hole in our heart is healed but there is a thick, permanent scar.
More about Along the Road:
This piece was written when one of Lisa Marsh's daughters (in her teens at the time) was going through a rocky time in life.
Dianne Davies:
Dianne is hungry for the stage. Her career includes teaching and performing polar opposites. Half of her time is spent on her musical comedy routine called *.Dianne Davies has Fallen off her Bench.*.Her show is classically funny with traces of Victor Borge, Carol Burnett, Liberace, P.D.Q. Bach, Igusdesman & Joo, Weird Al and The Piano Guys.From .Soleful. playing with her feet to even performing upside down and backwards she can make any crowd laugh.Also, Dianne and her two teenage sons, Kaleb and Joshua form .The Davies Family Trio..(Piano, drums and bass)As a family, they perform comedy and musical spoofs.

The other half of her time is spent on devouring brand new, fresh music by live, local composers. Cascadia Composers have consumed Dianne's attention. She helps coordinate the "In Good Hands" concert that connects live composers with young piano students. It has become her passion to share this new music with the next generation. This program Attachments & Detachments is music made personal. This program is not for the faint of heart or those who just want to be entertained. Music means everything and has the power to change us.

For the boring facts: Dianne Davies has a B.A. in Music and Education from Lewis and Clark College. She holds memberships in MTNA Music Teachers National Association, OMTA Oregon Music Teachers, Mu Phi Epsilon and NFMC National Federation of Music Clubs.She has a private piano studio in Beaverton and has been teaching for 25 years.She was the house pianist for HSO Hillsboro Symphony Orchestra for 5 years and was the featured soloist in Shostakovich.s Concerto No. 2, Saint-Saens Carnival of the Animals and Tchaikovsky.sConcerto No. 1.
Lisa Marsh:
Lisa Marsh is a member of the adjunct piano faculties at Marylhurst University, Portland State University and Portland Community College. As Director of the Coordinate Movement Program for Pianists at Portland State University she specializes in retraining injured pianists. Her additional background in somatic education includes 19 years as a Registered Nurse in the fields of Neurosurgery and Emergency Medicine, 8 years of piano technique study at the Taubman Institute of Piano and 5 years of study of the Alexander Technique and Body Mapping with Barbara Conable. She is also an Andover Educator Sponsoring Teacher. Ms. Marsh is principle Keyboard with the Columbia Symphony Orchestra, and pianist with the Onyx Chamber Ensemble and the Marsh- Titterington Piano Duo. She composes regularly and is a member of Cascadia Composers.
Jan Mittelstaedt:
Jan Mittelstaedt holds a BS in education from Bucknell University, a BA in music from Marylhurst University, and a MM in composition from the University of Portland, She has studied composition with Sister Anne Cecile Daigle at Marylhurst University and with Dr. Walter B. Saul II at the University of Portland and independently. An independent teacher of piano and Nationally Certified in piano by the Music Teachers National Association (MTNA), Jan Mittelstaedt is on the syllabus adjudicating staff of the Oregon Music Teachers Association (OMTA). Ms. Mittelstaedt is the composer of numerous educational pieces for piano. She also composes chamber music and sacred compositions. In 1993, she participated in the Ernest Bloch Composers Symposium with her /Saxophone Quartet/ and in 1994, she was chosen Composer of the Year by the Oregon Music Teachers Association (OMTA). Her composition for flute and piano, /Journey Through A Shadow/, was performed at the OMTA state convention in June of that year. She is a member of the Oregon Federation of Music Clubs, Mu Phi Epsilon, and the Christian Fellowship of Art Music Composers (CFAMC), Her biography is included in the /Marquis Who's Who of American Women/ and /Marquis Who's Who in America/.
Jeff Winslow:
A fourth-generation Oregonian, studied music and electronics at the University of California at Berkeley, getting serious about composition in the mid-90's as High Modernism finally relinquished its death grip on the world of art music. His work has been performed by FEARnoMUSIC and the Portland Vocal Consort, and also at Cascadia Composers, Seventh Species, Cherry Blossom Musical Arts, and Oregon Bach Festival concert, as well as several other locations around the region, often with the composer at the piano. A recent piano work, "Leid ohne Worte (lieber mit Ligeti)" received honorable mention from the Friends and Enemies of New Music, a New York-based composers' group. He is one of seven founding members of the Cascadia Composers, a chapter of NACUSA centered on the lower watershed of the Columbia River.
Art Resnick
Art Resnick is a professional jazz pianist and composer who has toured and recorded with some of the best know jazz dignitaries in the world. Although Art's career has been exclusively jazz, he has always had a love of classical music, especially modern classical music. While teaching classes at San Diego State University he earned a BM degree in classical piano performance. As a composer he is mostly autodidact with some course work and studied with R. Murray Schafer (soundscapes), Robert Shallenberg (U of Iowa, electronic music), Dan Lee Mitchell (Harry Partch instruments at SDSU), Robert Priest and Tomas Svoboda in Portland, OR. He was named the 2015 composer of the year by the Oregon Music Teachers Association and will debut a piano trio in June.
Cynthia Gerdes
Cynthia Gerdes writes music for traditional instruments in a twenty.first.century style which can be described as western classical tradition extending into "now." From a conversation among backyard birds to a sonic snapshot of Idaho history, from caricatures of human behaviors to tangos, Gerdes' compositions explore ways of expressing the vernacular while combining it with depth and lightness, humor and insight. In recent years Cynthia's music has been performed by Portland's new music performance group FearNoMusic; at the Composer's Symposium, Performers. Choice Concert at the Ernest Bloch Festival at Newport, Oregon; at Portland State University and in concerts sponsored by the Cascadia branch of the National Association of Composers USA.
Back to home page.