House Concert April 15, 2017
Adam Eccleston - flute & Kira Whiting - piano

Program:

1. Georg Telemann - Fantasie #3 in B minor
2. Jean-Marie Leclair - Sonata in E minor, Opus 2 No. 1
3. Robert Schumann - Three Romances Opus 94
4. Franz Doppler - Rondo from Andante and Rondo Opus 25, with Epaul Chan (flute student)
5. Benjamin Goddard - Suite de trois morceaux Opus 116
5. Vyacheslav Shelukov - The Cavalier, Eric Medina Acosta (BRAVO trombone student)
6. Samuel Zyman - Sonata for flute and piano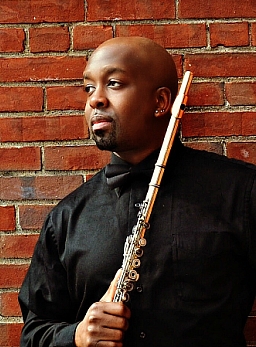 Adam Eccleston's love of Music for flute originated from his family's passion for music from their home countries of Panama and the Caribbean Islands. His calling for the instrument derived from his 'James Bond' stunts that he used on a fellow classmate, who was then a flutist. Mr. Eccleston, or at that time better known as, Mr. Bond, surreptitiously took his fellow classmates flute with him and practiced at home. Shortly after those primitive months of being self-taught, he decided to put aside the 'James Bond' act and live the dream of playing the flute.

Originally from New York City, Mr. Eccleston moved to Germany with his family at the age of nine. There he studied with Eric lamb, co-principal flutist of The International Contemporary Ensemble and Thaddeus Watson, piccolo player of the Frankfurt Radio Symphony Orchestra at the Frankfurt Hochschule für Musik und Darstellende Kunst. While in Europe, he worked with Sir James Galway in Switzerland, William Bennett in England and went on to receive a Masters in Music from the New England Conservatory with Paula Robison. Mr. Eccleston has also worked with Dr. Tara Helen O'nnor, Marco Granados, Amy Porter, Leone Buyse and Jim Walker.

As a soloist, he has appeared with several orchestras around the United States and Europe and has performed in venues such as the Kurhaus Wiesbaden in Germany and Jordan Hall in Boston. As a chamber musician, Mr. Eccleston is co-founder of the duo, from A to Z, with Mexican born guitarist, Zaira Meneses. The group focuses on promoting music from all over the world and give recitals, masterclasses and community concerts throughout the Northeast. Mr. Eccleston has appeared with the Borromeo String Quartet, the Boston Public String Quartet, DJ Premier and has performed in both the Weill Recital Hall and Stern Auditorium in Carnegie Hall, the Isabella Steward Gardner Museum and Casino Kursaal in Switzerland.

Orchestrally, Mr. Eccleston is principal flutist of The Eastern Festival Symphony Orchestra and former principal flutist of the Boston-based chamber orchestra, Discovery Ensemble, which focuses on bringing classical music to inner city schools throughout Boston. Furthermore, the ensemble has received outstanding reviews by Boston Globe and Artsboston, and can be heard on WGBH Boston radio station. Mr. Eccleston has served under Valery Gergiev, Hugh Wolff, and Benjamin Zander, and has performed at the Strathmore Music Center in Washington D.C., Symphony Hall Boston, Palais Montcalm Canada, and others. He has also been awarded top prizes in various competitions, one of which is the New York Flute Club Competition.

A devoted humanitarian and firm supporter of arts education, Mr. Eccleston works extensively with MESDA group; A non-profit organization that offers a wide variety of educational support through music to under developed countries around Central and South America and the Caribbean Islands.

Mr. Eccleston has presented master classes in Panama City, Panama that was sponsored by La Fundación de Panamá and Fundación Danilo Perez. He has participated in music workshops with members of the YOA Orchestra to under-privileged children in the U.S. and abroad.


---

Kira Whiting a collaborative pianist currently based in Portland, graduated from Manhattan School of Music in May 2014 with a Master's in Classical Accompanying with a Vocal Emphasis. Ms. Whiting has participated in masterclasses with Thomas Quasthoff, Martin Katz, Thomas Hampson, Craig Rutenberg, and Roger Vignoles. She has performed several art song recitals in Scandinavia, including a program of American art songs with Norwegian soprano Margrethe Fredheim for a balcony concert at the Oslo Opera House. Ms. Whiting was a semi-finalist in collaboration with Dashon Burton, Bass-Baritone, at the Wigmore Hall International Art Song Competition 2015 in London, UK.



---
HouseConcertsPDX.org