Program:

Oregon Guitar Quartet members Jesse McCann and John Mery present an evening of solo classical guitar music in a split concert. Each guitarist will perform a different guitar sonata by Bryan Johanson composed for, and dedicated to them. Jesse will perform a varied program of 20th century and contemporary works featured during his recent concert tour of Italy. John will perform works by J.S. Bach as well original works influenced by his recent genealogical research. This is a rare Portland opportunity to hear these players in a solo performance.


Bios:


Jesse McCann is an award-winning classical guitarist who made his debut at age 17 on the gulf coast of Mississippi. He studied with Croatian guitarists Miroslav Loncar and Natasha Klasinc and later Bryan Johanson. He has also had the privilege of studying with some of the world's leading guitarists and composers including Dusan Bogdanovic, Denis Azabagic, Jason Vieaux, David Tanenbaum and Scott Tenant. In addition to being a top prize solo winner, he has led two award-winning guitar trios and is currently a member of the Oregon Guitar Quartet. Jesse runs the guitar program at Portland State University and is on faculty for Portland Community College. He also hosts a popular podcast called The Tactical Guitarist where he interviews guitarists and other professionals who offer their stories and wisdom on succeeding in a career in music.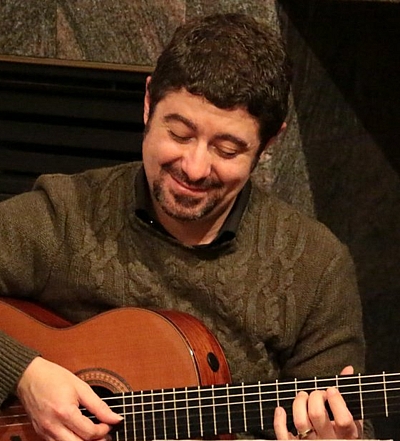 John Mery is a highly versatile and critically acclaimed guitarist with an extensive performance and recording resume as soloist, ensemble member, and sideman. Highlights of recent performances include the Guitar Foundation of America International Festival, Loudon Guitar Festival, High Desert Chamber Music, XXIII and XXIV Annual Credomatic Costa Rica Music Festival, Buenos Aires College Music Society International Conference, Chintimini Chamber Music Festival, Chamber Music Northwest, and the Northwest Guitar Festival. He has also performed with the Oregon Symphony, with the Portland Opera, and with 3rd Angle New Music Ensemble. His latest solo recording .Guitarra Española - Spanish Guitar Classics. was released in 2017. His recordings have not only received critical praise but are also popular on streaming services such as Spotify (as of March 2018 16,000 plus monthly listeners) and Pandora (nearly one million streams).
John is a founding member of the Oregon Guitar Quartet, a group that has released eight critically acclaimed recordings on the Cube Squared Records label. In addition to being an ensemble member on the recordings John served as producer for the group.s 2013 release .Classic. and as principal recording engineer for many of the group's releases, including the ensemble's 2018 release Scarlatti. This project has received regular FM radio airplay across the nation including NYC's WQXR-FM, Philadelphia's WRTI-FM, and Chicago's WFMT.
John is also a member of the quintet Tango Pacifico who released the successful 2010, all-Piazzolla CD, .Revirado.. This work led to John becoming a D.Angelico Guitars .proudly endorsed artist. In 2008 he released the CD "Solo Guitar", a project that has become a popular on many streaming music services. John records exclusively for Cube Squared Records.
John holds a Master of Music degree from the University of Arizona where he had the opportunity to study under Tom Patterson and with great masters of the guitar such as Abel Carlevaro, David Russell and Oscar Ghilia. He has also studied in Spain, France and Italy. John was born in Santiago, Chile and speaks a number of languages fluently. John is a direct descendant of passengers from the Mayflower compact on his mother's side. He is of Spanish, Italian, German, English (colonial American) and Native American descent. Genealogy is one of John's past times. You can read more about this on John's ancestry blog.
John is on the music faculty of Lewis and Clark College, Reed College, and Portland Community College where he is the Chair of Music and Theatre Arts. He currently resides with his wife, daughters and son in Lake Oswego, Oregon.