House Concert March 23, 2019
David Brokaw - piano

Program: "Postcards from Spain"


Federico Mompou (1893-1987)
from Impresiones Intimas (1911-1914):
"A Sad Bird"
"Cradle Song"
"A Secret"

Claude Debussy (1862-1918)
from Preludes, Book 2 (1910-1913):
Lili Boulanger (1893-1918)
"From an Old Garden"
"From a Bright Garden"
Cortège
Maurice Ravel (1875-1937)
Charles-Valentin Alkan (1813-1888)
Fredèric Chopin (1810-1849)
[15-20 min Break]
Joaqùin Rodrigo (1901-1999)
"In the Shadow of the Crimson Tower" (1945)

Mompou (1893-1987) "Landscapes" (1942-1960)
"The Fountain and the Clock"
"The Lake"
"Oxen-Carts of Galicia"

Manuel de Falla (1876-1946)
from The Three-Cornered Hat (1919):
Dance of the Miller
Dance of the Miller's Wife
Dance of the Neighbors
from La Vida Breve (1905):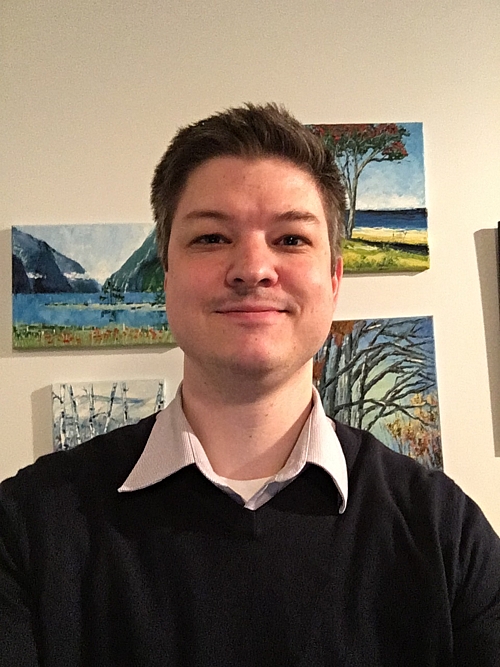 David Brokaw (1976-) is a doctor of clinical pharmacy and pianist based in Portland, Oregon. Raised in North Canton, Ohio, he received his BS in molecular biology and BA in music theory & history at Indiana University. He later finished an independent study in philosophy at IU. After working for several years on both coasts in various laboratories playing with cells and microscopes, he completed his PharmD in 2014 at Ohio State University. David. gave his first solo recital at the age of 14, and signed his first professional gig contract at 18 as a rehearsal pianist. Weirdly, his recordings of obscure Russian composer Stanchinsky are cited in both Wikipedia and IMSLP. Since moving to Portland, he has played with the Columbia Symphony (orchestral part), ARCO-PDX collective (amplified repertory chamber orchestra), solo recitals at Terwiliger Plaza and elsewhere, and is a regular member of Classical Revolution-PDX. An autodidact by nature, his musical development has been overwhelmingly derived from sound recordings, books, and experiencing live concerts. This is his first house concert. He has never been to Spain.